THE DESTRUCTION OF
AMERICA IS OVER 60%
COMPLETE! Do not FEAR
keep looking UP! The answer
is knowing and loving and
declaring Jesus Christ!!!
We were born with an autopilot set toward Hell. It is nothing to take lightly - Hell is the single greatest tragedy in the universe - REPENT and Choose Christ Today!

Home
Daily Success is Possible
Seeking to Honor GOD
Lester Battery Chargers
Lester Summit II Battery Chargers
Lester Charger Parts
PBM Battery Chargers
Quick Charge Battery Chargers
Privacy Policy
Shipping and Returns
Contact Us
About Us
Thank you for your payment!
Canada Shipping and other Countries


Depending on the state there may be State tax to be paid after the sale -
my website is not smart enough to figure it out ahead of time.
Your state may be one that charges state tax.
Also the tax charged is on my cost not your cost.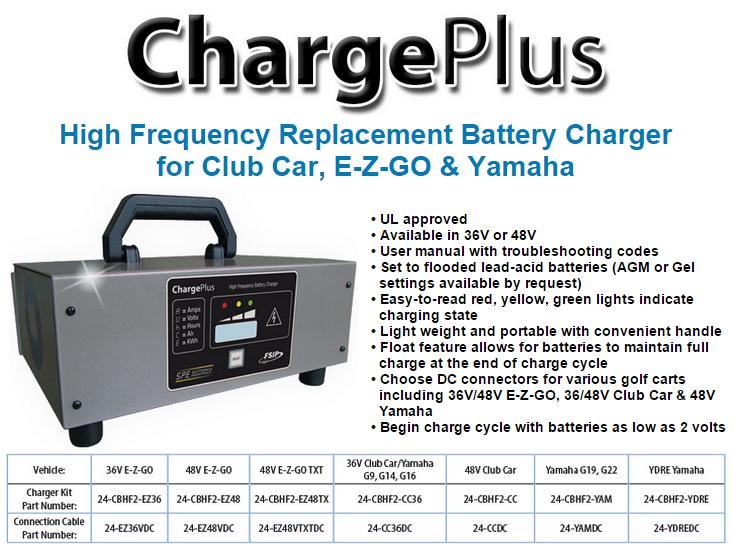 2 Year Limited Warranty -- AC input 100 to 240 volts -- PRICE INCLUDES DELIVERY IN 48 States
Can be Changed from 36 volt to 48 volts and 48 volts to 36 volts - just need the correct DC cable for your application! Extra cable of your choice costs $89 delivered
Plug

Part Number

Description

Cost

Buy

36V E-Z-GO - 25 amps
uses EZ36VDC cable

$399.99

48V E-Z-GO - 20 amps
uses EZ48VDC cable

$399.99

CBHF2-EZ48TX

48V E-Z-GO TXT
uses EZ48VTXTDC
cable - 20 amps

$399.99

36V Club Car - 25 amps
Yamaha G9, G14, G16
uses CC36DC cable

$399.99

48V Club Car - 20 amps
uses CCDV cable

$399.99

Yamaha G19, G22
uses YAMDC cable
25 amps

$399.99

YDRE Yamaha - 20 amps
uses YDREDC cable

$399.99