Home
Up
Daily Success is Possible
Lester Summit II Battery Chargers
Lester Charger Parts
Lester Battery Chargers
Taylor-Dunn Chargers
Yamaha Chargers
Quick Charge Battery Chargers
ChargePlus Battery Chargers
DPI Chargers, Inverters and Converters
PowerMAX Converters and Chargers
Pro Charging Systems - Dual Pro Chargers
Canada Shipping and other Countries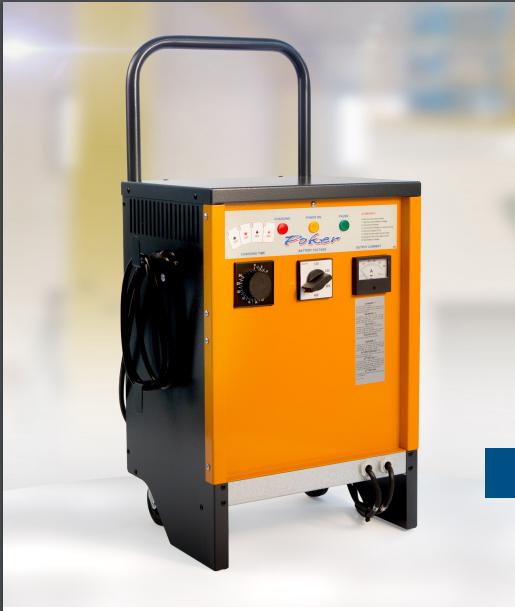 PBM - The POKER Model PK120-C43 @ $839
Plus actual shipping

MULTI-VOLTAGE BATTERY CHARGER
TECHNICAL GENERAL REMARKS :
Mains input: 120V AC ±5%, UL-listed 20A input fuse,Input Current 15A AC max. Equipped with NEMA 5- 15A cables.
Output: suitable for 12V, 24V, 36V and 48V lead-acid batteries.
Electromechanical timer adjustable from 0 to 12 hours max.
Electromechanical switch for output voltages selection.
Ammeter: 100A/100mV.
Cabinet with wheels and handlebar for easy handling.
24V AC auxiliary circuit with overload cutout and 1.6A fuse.
DIMENSIONS: :
15.7"L x 33.5"H x 12.6"W (without handlebar: 15.7"L x 23.6"H x 12.6"W)
Weight: 88 lbs (40 Kg)
TYPE

AC INPUT

BATTERY
CAPACITY

12V / 60A

10.3A

12V 480AH

24V / 45A

13.9A

24V 360AH

36V / 30A

13.5A

36V 240AH

48V / 25A

13.9A

48V 200AH