Home
Up
Daily Success is Possible
Lester Summit II Battery Chargers
Lester Charger Parts
Lester Battery Chargers
Taylor-Dunn Chargers
Yamaha Chargers
Quick Charge Battery Chargers
ChargePlus Battery Chargers
DPI Chargers, Inverters and Converters
PowerMAX Converters and Chargers
Pro Charging Systems - Dual Pro Chargers
Canada Shipping and other Countries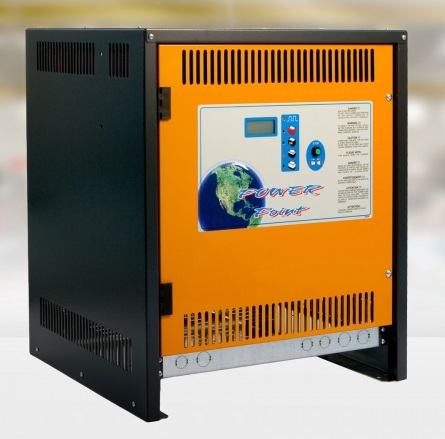 Please call to check availability and your DC plug requirements
Most are in stock!
Pricing does not include shipping. Contact us for a freight quote.
| | | | | | | | | | | |
| --- | --- | --- | --- | --- | --- | --- | --- | --- | --- | --- |
| Part # | Type | Cells | Amp Hour | 208V Amps | 240V Amps | 480V Amps | 660V Amps | Dimension inches | Cost | Buy |
| 30-308 | 12V/80A | 6 | 400 - 560 | 4.1 | 3.6 | 1.8 | 1.4 | 19.7x31.5x15.7 | $1190 | |
| 30-310 | 12V/90A | 6 | 450 - 630 | 4.6 | 4.0 | 2.0 | 1.6 | 19.7x31.5x15.7 | $1200 | |
| 30-312 | 12V/100A | 6 | 500 - 700 | 5.1 | 4.5 | 2.2 | 1.8 | 19.7x31.5x15.7 | $1235 | |
| 30-345 | 24V/60A | 12 | 300 - 420 | 5.9 | 5.1 | 2.5 | 2.0 | 19.7x31.5x15.7 | $1290 | |
| 30-349 | 24V/80A | 12 | 400 - 560 | 7.8 | 6.8 | 3.4 | 2.7 | 19.7x31.5x15.7 | $1190 | |
| 30-353 | 24V/100A | 12 | 500 - 700 | 9.8 | 8.5 | 4.2 | 3.4 | 19.7x31.5x15.7 | $1235 | |
| 50-353-T5 | 24V/100A | 12 | 500 - 700 | 9.8 | 8.5 | 4.2 | 3.4 | 19.7x31.5x15.7 | $1300 | |
| 30-357 | 24V/120A | 12 | 600 - 840 | 11.7 | 10.2 | 5.1 | 4.1 | 19.7x31.5x15.7 | $1265 | |
| 50-357-T5 | 24V/120A | 12 | 600 - 840 | 11.7 | 10.2 | 5.1 | 4.1 | 19.7x31.5x15.7 | $1345 | |
| 30-361 | 24V/140A | 12 | 700 - 980 | 13.7 | 11.8 | 5.9 | 4.7 | 19.7x31.5x15.7 | $1310 | |
| 30-365 | 24V/160A | 12 | 800 - 1120 | 15.6 | 13.5 | 6.8 | 5.4 | 19.7x39.4x15.7 | $1375 | |
| 30-369 | 24V/180A | 12 | 900 - 1260 | 17.6 | 15.2 | 7.6 | 6.1 | 19.7x39.4x15.7 | $1425 | |
| 30-373 | 24V/200A | 12 | 1000 - 1400 | 19.5 | 16.9 | 8.5 | 6.8 | 19.7x39.4x15.7 | $1510 | |
| 30-386 | 36V/60A | 18 | 300 - 420 | 8.6 | 7.5 | 3.6 | 3.0 | 19.7x31.5x15.7 | $1400 | |
| 30-390 | 36V/80A | 18 | 400 - 560 | 11.5 | 10.0 | 5.0 | 4.0 | 19.7x31.5x15.7 | $1235 | |
| 30-394 | 36V/100A | 18 | 500 - 700 | 14.4 | 12.5 | 6.2 | 5.0 | 19.7x31.5x15.7 | $1290 | |
| 30-398 | 36V/120A | 18 | 600 - 840 | 17.3 | 15.0 | 7.5 | 6.0 | 19.7x39.4x15.7 | $1400 | |
| 50-398-T5 | 36V/120A | 18 | 600 - 840 | 17.3 | 15.0 | 7.5 | 6.0 | 19.7x39.4x15.7 | $1455 | |
| 30-402 | 36V/140A | 18 | 700 - 980 | 20.1 | 17.5 | 8.7 | 7.0 | 19.7x39.4x15.7 | $1485 | |
| 50-402-T5 | 36V/140A | 18 | 700 - 980 | 20.1 | 17.5 | 8.7 | 7.0 | 19.7x39.4x15.7 | $1590 | |
| 30-406 | 36V/160A | 18 | 800 - 1120 | 23.0 | 19.9 | 10.0 | 8.0 | 19.7x39.4x15.7 | $1520 | |
| 30-410 | 36V/180A | 18 | 900 - 1260 | 25.9 | 22.4 | 11.2 | 9.0 | 19.7x39.4x15.7 | $1620 | |
| 50-410-T5 | 36V/180A | 18 | 900 - 1260 | 25.9 | 22.4 | 11.2 | 9.0 | 19.7x39.4x15.7 | $1815 | |
| 30-414 | 36V/200A | 18 | 1000 - 1400 | 28.8 | 24.9 | 12.5 | 10.0 | 19.7x39.4x15.7 | $1745 | |
| 30-418 | 36V/220A | 18 | 1100 - 1540 | 31.7 | 27.4 | 13.7 | 11.0 | 23.6x43.3x18.9 | $1855 | |
| 30-422 | 36V/240A | 18 | 1200 - 1680 | 34.5 | 29.9 | 15.0 | 12.0 | 23.6x43.3x18.9 | $1855 | |
| 30-426 | 48V/50A | 24 | 250 - 350 | 9.5 | 8.2 | 4.1 | 3.3 | 19.7x31.5x15.7 | $1195 | |
| 30-427 | 48V/60A | 24 | 300 - 420 | 11.4 | 9.9 | 4.9 | 3.9 | 19.7x31.5x15.7 | $1235 | |
| 30-431 | 48V/80A | 24 | 400 - 560 | 15.2 | 13.2 | 6.6 | 5.3 | 19.7x31.5x15.7 | $1290 | |
| 30-435 | 48V/100A | 24 | 500 - 700 | 19.0 | 16.5 | 8.2 | 6.6 | 19.7x31.5x15.7 | $1345 | |
| 50-435-T5 | 48V/100A | 24 | 500 - 700 | 19.0 | 16.5 | 8.2 | 6.6 | 19.7x31.5x15.7 | $1400 | |
| 30-439 | 48V/120A | 24 | 600 - 840 | 22.8 | 19.8 | 9.9 | 7.9 | 19.7x39.4x15.7 | $1485 | |
| 30-443 | 48V/140A | 24 | 700 - 980 | 26.6 | 23.1 | 11.5 | 9.2 | 19.7x39.4x15.7 | $1565 | |
| 30-447 | 48V/160A | 24 | 800 - 1120 | 30.4 | 26.4 | 13.2 | 10.5 | 19.7x39.4x15.7 | $1640 | |
| 50-447-T5 | 48V/160A | 24 | 800 - 1120 | 30.4 | 26.4 | 13.2 | 10.5 | 19.7x39.4x15.7 | $1700 | |
| 30-451 | 48V/180A | 24 | 900 - 1260 | 34.2 | 29.6 | 14.8 | 11.9 | 23.6x43.3x18.9 | $1760 | |
| 30-455 | 48V/200A | 24 | 1000 - 1400 | 38.0 | 32.9 | 16.5 | 13.2 | 23.6x43.3x18.9 | $2140 | |
| 30-459 | 48V/220A | 24 | 1100 - 1540 | 41.8 | 36.2 | 18.1 | 14.5 | 23.6x43.3x18.9 | $2170 | |
| 30-463 | 48V/240A | 24 | 1200 - 1680 | 45.6 | 39.5 | 19.8 | 15.8 | 23.6x43.3x18.9 | $2185 | |
| 30-472 | 72V/80A | 36 | 400 - 560 | 22.6 | 19.6 | 9.8 | 7.8 | 19.7x39.4x15.7 | $1470 | |
| 30-476 | 72V/100A | 36 | 500 - 700 | 28.2 | 24.5 | 12.2 | 9.8 | 19.7x39.4x15.7 | $1590 | |
| 30-480 | 72V/120A | 36 | 600 - 840 | 33.9 | 29.4 | 14.7 | 11.7 | 19.7x39.4x15.7 | $1760 | |
| 30-484 | 72V/140A | 36 | 600 - 840 | 39.5 | 34.3 | 17.2 | 13.7 | 19.7x39.4x15.7 | $1980 | |
| 30-504 | 80V/80A | 40 | 480 - 520 | | | | | 22.1x21.1x26.2 | $1480 | |
| 30-508 | 80V/100A | 40 | 600 - 650 | | | | | 25.3x24.6x33.1 | $1855 | |
| 30-512 | 80V/120A | 40 | 720 - 780 | | | | | 25.3x24.6x33.1 | $2360 | |
| 30-516 | 80V/140A | 40 | 840 - 910 | | | | | 25.3x24.6x33.1 | $2185 | |