THE DESTRUCTION OF
AMERICA IS OVER 60%
COMPLETE! Do not FEAR
keep looking UP! The answer
is knowing and loving and
declaring Jesus Christ!!!
We were born with an autopilot set toward Hell. It is nothing to take lightly - Hell is the single greatest tragedy in the universe - REPENT and Choose Christ Today!

Home
Up
Daily Success is Possible
Lester Summit II Battery Chargers
Lester Charger Parts
Lester Battery Chargers
Taylor-Dunn Chargers
Yamaha Chargers
PBM Battery Chargers
Quick Charge Battery Chargers
ChargePlus Battery Chargers
DPI Chargers, Inverters and Converters
Pro Charging Systems - Dual Pro Chargers
Canada Shipping and other Countries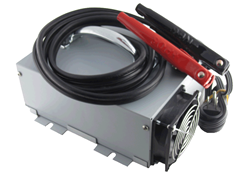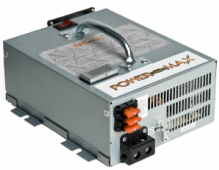 Adjustable knob has been moved internally on the back to prevent breakage.
A clean power supply
for

maintaining batteries during service or on the showroom floor.

KEY FEATURES:
PowerMax PMBC Power Supply/Battery Chargers provide clean and reliable power for charging and maintaining battery state-of-charge during service reflash, complex maintenance, and in the showroom where vehicle demonstrations can require significant power from the battery.
Allows for vehicles to be displayed with all electrical features and accessories activated
Great for maintaining the battery
Provides a constant clean power supply for using scan tools and reprogramming of ECMs without discharging battery
Automatically maintains the battery when performing complex mechanical service
Advanced switch-mode design
Provides a cleaner, more reliable power source than a standard charger
Fully regulated DC output prevents overcharging of the battery and provides precise control to maintain the necessary battery voltage during complex service and reflash
Quiet, small, and compact for portability
Standard 2 Year Warranty
Multiple protection features for a long, trouble-free life
Reverse battery polarity protection via replaceable fuses
Brownout input protection
Over-current protection: cycle-by-cycle peak-limiting as well as rated current-limiting to maximize the life of the converter
Over-temperature protection
High quality, detachable cables for easy field service

PMBC-55, 75, 100 & 120 Specificatons
Power Supply Voltage Regulation: 13.6 V
Maximum Amps Output at Regulated Voltage: 55-120A
On/Off Switch:
Removable Cable Set: 6 foot clamp set
Part
Description
Wt
Cost
Buy
PMBC-55
55 Amp Charger with On/Off Switch
and Meter and Adjustable Voltage 13 to 16.5
7
$199.99
Delivered
PMBC-75
75 Amp Charger with On/Off Switch
and Meter and Adjustable Voltage 13 to 16.5
9
$259.99
Delivered
PMBC-100
100 Amp Charger with On/Off Switch
and Meter and Adjustable Voltage 13 to 16.5
11
$319.99
Delivered
PMBC-120
120 Amp Charger with On/Off Switch
and Meter and Adjustable Voltage 13 to 16.5
11
$379.99
Delivered
NOW ALL MODELS ARE ADJUSTABLE