100 AMP CHARGERS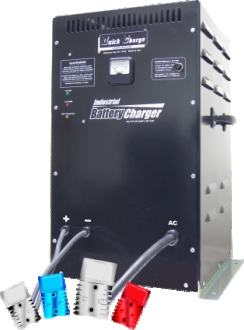 PDF (QSETX) Operating Instructions
NORMAL SHIPPING IS 7 TO 21 DAYS DEPENDING ON THE TIME OF THE YEAR - RIGHT NOW 14 TO 21 DAYS.IF YOU ARE WILLING TO PAY FOR 2ND DAY AIR, THEY WILL BUILD AND SHIP YOUR UNIT THE SAME OR NEXT DAY.
Forklifts and all Industrial Applications.
These chargers are designed for 750-1100 amp hour batteries. The efficient heavy duty transformer and rectifiers require no fans, and give years of trouble free service. AUTO START/STOP. LED indicators. DC ammeter. When service is necessary, the modular construction allows for easy field service. Or use our rapid return factory service. Your choice of DC connectors
3 YEAR WARRANTY. Made in U.S.A.
---
Charge Profiles:
Gas & timed shut off: Timer trips at 2.3 gassing threshold. Batteries are allowed to gas to a maximum of 2.55 volts per cell before shut off. Best for deep cycle batteries
Model
DC
VOLTS
DC
AMPS
AC
POWER
Dimensions
H.D.W. in.
WEIGHT
BATTERY CAPACITY
COST
BUY
SC12100
12
100
115v 60hz.
12 amps
24 x 14 x 15
85
750-1100 Amp Hour
$1073.99
SCX24100
24
100
230v 60hz.
12 amps
24 x 14 x 15
95
750-1100 Amp Hour
$1275.99
SCX32100
32
100
230v 60hz.
15amps
24 x 14 x 15
100
750-1100 Amp Hour
$1452.99
SCX36100
36
100
230v 60hz.
15amps
24 x 14 x 15
100
750-1100 Amp Hour
$1452.99
SCX48100
48
100
230v 60hz.
20 amps
24 x 14 x 15
110
750-1100 Amp Hour
$1492.99

PLUS ACTUAL SHIPPING
CHARGES
a separate request for funds will
be sent upon shipment