AIRCRAFT APU & CHARGER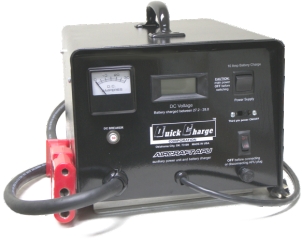 Available with plug as shown, or Piper plug.
Where to buy

Supplies filtered DC bus power when master switch is activated. A must for checking aircraft controls and avionics. Also is a 10 amp battery charger through the APU receptacle. DC ammeter, and digital voltmeter indicators. Output is Current limited, and will withstand starting loads. Voltage is limited to prevent battery overcharging.
Available in Three models:
Warranty: (3) years.
Model
DC
VOLTS
DC
AMPS
AC
POWER
Dimensions
H.D.W. in.
WEIGHT
COST
BUY
APU14V/25A
14
25
117v 60hz.
3 amps
8.5 x 10 x 12
22
$667.95 plus $21.99 shipping
APU28V/25A
28
25
117v 60hz.
6amps
8.5 x 10 x 12
35
$788.95 plus $34.99 shipping
APU28V/50A
28
50
117v 60hz.
12 amps
8.5 x 12 x 12
47
$1036.95 plus $43.99 shipping