NORMAL SHIPPING IS 7 TO 21 DAYS DEPENDING ON THE TIME OF THE YEAR - RIGHT NOW 14 TO 21 DAYS. IF YOU ARE WILLING TO PAY FOR 2ND DAY AIR, THEY WILL BUILD AND SHIP YOUR UNIT THE SAME OR NEXT DAY.
Parallel Charger
Model QPA12v/50A is designed with maximum flexibility. The adjustable current control means it can
charge groups of wet cell's, AGM's, or gel batteries requiring as little as one amp each or put as much
as 50 amps into one battery. The adjustable voltage control means you can control final voltage with
precision. Equipped with ammeter, and digital voltmeter for battery monitoring. Safety features include
reverse polarity protection, and current limiting.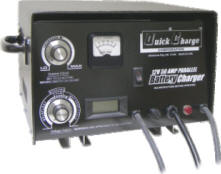 Model QPA12v/50A
Only $606.95
plus $34.99 shipping
Specs:
H.W.D.
8" x 12" x 12"
Weight:
36 lbs.
Input:
117vac 60 Hz. 9 amps
Output:
12v, 1-50 amps. Finish voltage adjustable from 13.0 - 15.5
3 YEAR WARRANTY. Made in U.S.A.

---

Typical layout using the Quick Charge Corp. Parallel Bus cable set.
(4) batteries would receive approx 12 amps with charger turned wide open.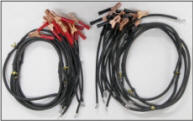 Parallel Bus cable set.
Consists of (2) #6 cables 10' long, (10) red and (10) black clips on 12" #10 gauge leads, attached to cable by brass wing nuts spaced 10" apart.
Only $
348
.95 when purchased with Charger