SERIES MULTI CHARGER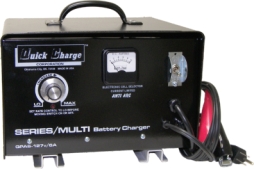 model- QPA6-127v/6A
charges 6-60 cells @ 6 amps. 117v input
Only $571.9
5
plus $21.99 shipping
model-QPAX36-240v/6A
charges 18-120 cells @ 230v input
Only $672.97 plus $23.99 shipping
PDF Operating Instructions
model- QPA12-127v/15A
charges 6-60 cells @15 amps. 117v input
Only $746.95
plus $23.99 shipping

Designed around the needs of battery specialist, fleet operators, warehouses, and reclaimers. Output is current limited, and is controlled by one linear adjustment. Voltage is adjusted automatically. The reverse polarity feature, and isolated copper transformer make the Series Multi SAFE. It is not recommended for gel, nicad, or motorcycle batteries.
1 Year Warranty Made in U.S.A.
NORMAL SHIPPING IS 7 TO 21 DAYS DEPENDING ON THE TIME OF THE YEAR - RIGHT NOW 14 TO 21 DAYS. IF YOU ARE WILLING TO PAY FOR 2ND DAY AIR, THEY WILL BUILD AND SHIP YOUR UNIT THE SAME OR NEXT DAY.